Wide-open backyards can attract would-be intruders but you can help to deter uninvited trespassers with a new security fence. If you want to protect your home or business from being burglarized and keep your loved ones safe within your property borders, then a quality fence with a reputable Florida fence contractor like Getter Done Fence Pro is a great idea. 
There are so many reasons our Ocala area customers choose a security fence and this article will take a closer look at the best types of fencing materials to use to protect your home or business.
The Strongest Florida Security Fence Options
A security fence keeps your home and property safe by deterring or delaying intruders. For your home, a fence may be able to meet all your security demands, particularly in residential areas where crime is typically low and opportunistic. In commercial and industrial applications, a security fence typically means a metal structure that both deters and makes the fence unscalable. These fences may include additional security features such as razor wire and spikes. In these applications, visibility and line of sight are sometimes necessary. Metal and chain link fences can provide adequate security and deterrence without reducing visibility.
However, be aware that no security fence can keep out all intruders – with enough time, patience, and the right tools, an intruder can bypass even the toughest fence, so the idea behind a security fence is to delay the intruder for as long as possible. 
As a reputable Florida fence contractor, we recommend you consider these three particularly important questions when choosing a security fence for your property:
Is the Fence Hard or Easy to Bypass?
Most break-ins are random based on how easily the property and home can be breached and retreated from quickly. A fence installed for security purposes will do you no good if a burglar can go over, around, or under it, quickly and easily.  A good security perimeter fence is secured to the ground, is durable, cannot be cut, and surrounds the entire property. Additionally, you should include security gates and driveway gates so that no opening is left vulnerable and exposed.
Is the Fence Easy or Hard to Climb?
An effective security fence should be hard to climb. The taller your fence can be, the better your security. If you are limited by height, fences that are pointed or have spikes on the top will discourage potential intruders from climbing them. If you want horizontal rails as part of your fence design, make sure they are facing towards the inside of your property and the space between them doesn't allow for easy climbing.
Does the Fence Provide any Hiding Places?
When choosing security fencing styles and materials, you want to avoid a fence that blocks the view of the other side of the fence. You want to be able to see if anyone is prowling around thereby giving you the opportunity to call for help or investigate before they try to breach the fence. Solid, tall fences provide great hiding places for intruders and should be avoided.
Here are Getter Done Fence Pro's recommendations for effective security fences:
1. Aluminum Fencing
For many homeowners, neighborhood associations, and permitting agencies, aluminum fencing takes the top spot for security fencing: tough and intruder-resistant yet attractive. In fact, aluminum fencing has long been used for security fencing at the White House. For decades, the height was 6 and a half feet. In 2020, the height was doubled to 13 feet.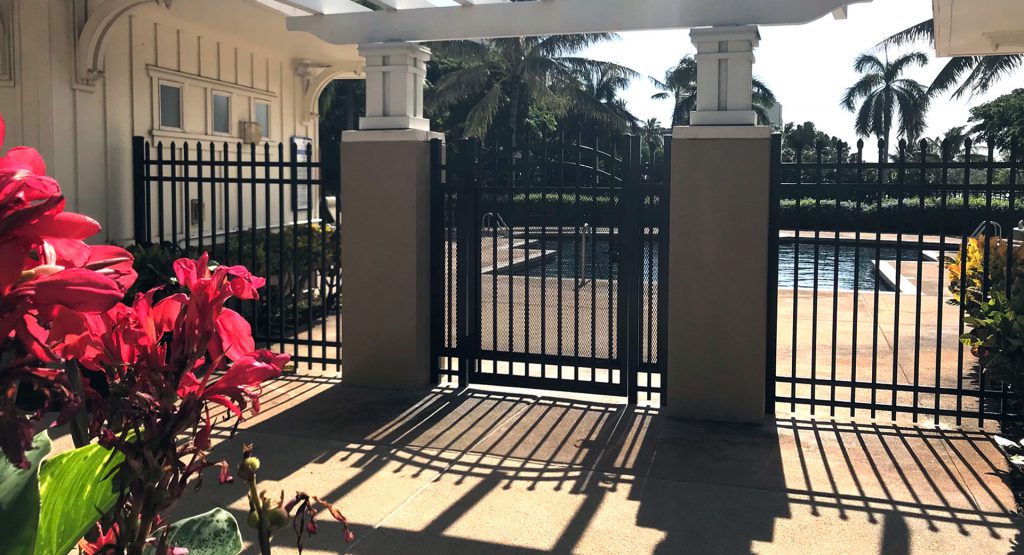 Pests, Weather, and Wear Are No Match for Aluminum Fences
A well-made aluminum fence is your very best option for strength and longevity. Aluminum fences are known to have the strength of wrought iron fences despite being a lighter-weight fencing material. They're more affordable than iron fencing, but they are built to last for life. Aluminum fencing isn't bothered by weather, wind, or insects and won't rot, rust, or deteriorate. Quality aluminum fencing is manufactured with a protective powder coating, making this metal fencing virtually indestructible.
Low Maintenance
The upkeep needed for aluminum security fencing is minimal. You only need to clean security fencing occasionally to ensure the specialized powder coating is still in good condition. Aluminum fencing won't rust or rot, and it will stay in great shape for years with only a few cleanings.
2. Chain Link Fence
Chain link fence is moderately effective at delaying entry to your property by intruders on its own. Chain link's diamond-shaped holes are nearly 3 inches wide, permitting an easy toe-hold for most shoes. The 9- or 11-gauge steel wire can be cut with a hacksaw, bolt cutter, or even garden loppers. However, you can boost the effectiveness of your fence for business locations but adding barbed wire or electrical wire to the top of the fence which will definitely discourage would-be intruders from scaling the fence. 
You can also select the thickness and style of the galvanized steel wires, with thicker wires providing enhanced security and durability. Choosing a taller fence height enhances the security of your property and chain link's open visibility is also a plus. For many homeowners with a tight budget, chain link fencing may be the best option due to its low cost.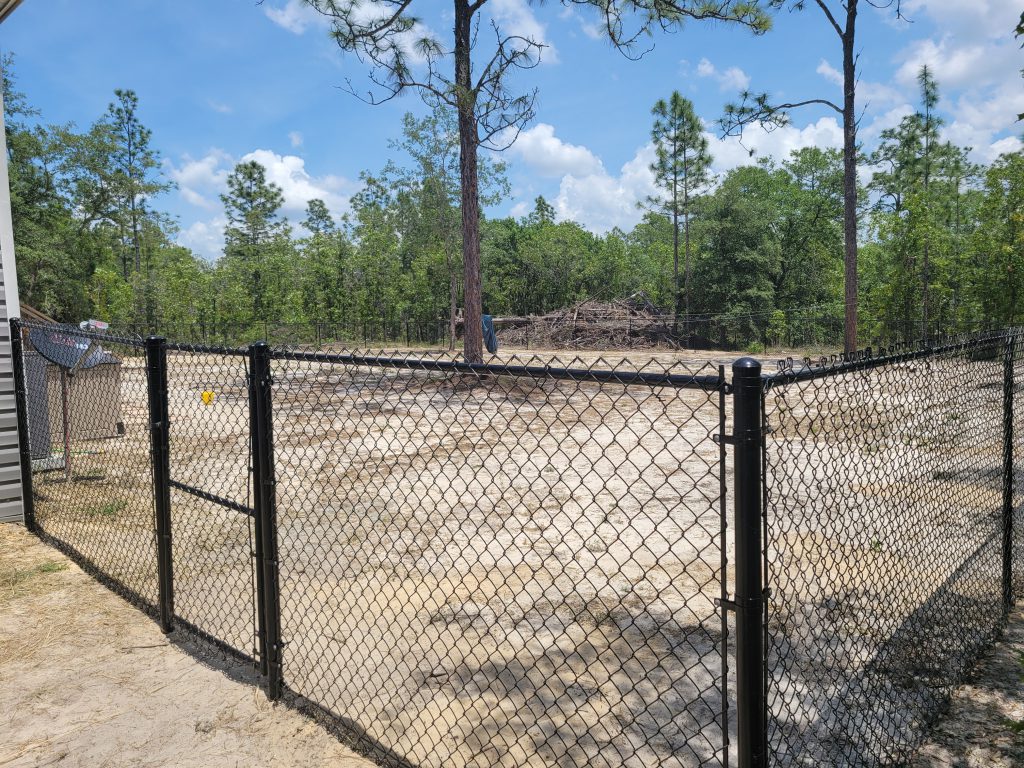 Chain Link is Durable and Long-Lasting
Made of galvanized steel, chain link fences cannot be destroyed by pests or rot. There is also protective PVC coating in several colors to add to the aesthetics of your fence as well as further protect your fence for longevity.
Low-Maintenance
Chain link does not attract dirt and debris, and it never needs painting or staining. Other than occasionally sweeping off leaves and cobwebs, there is little that you need to do to maintain a chain link fence. This makes chain link a particularly excellent choice for commercial applications and homeowners who are not interested in adding to their list of maintenance items.
3. Vinyl Fence
Our vinyl fences allow you to obtain privacy and keep prying eyes at bay. Vinyl fences keep their strength through harsh weather and sunlight and are another low-maintenance fencing option. While a tall, solid vinyl fence will not provide an unobstructed view beyond the fence, vinyl fencing has a smooth surface and no toe-holds so it is extremely difficult to climb.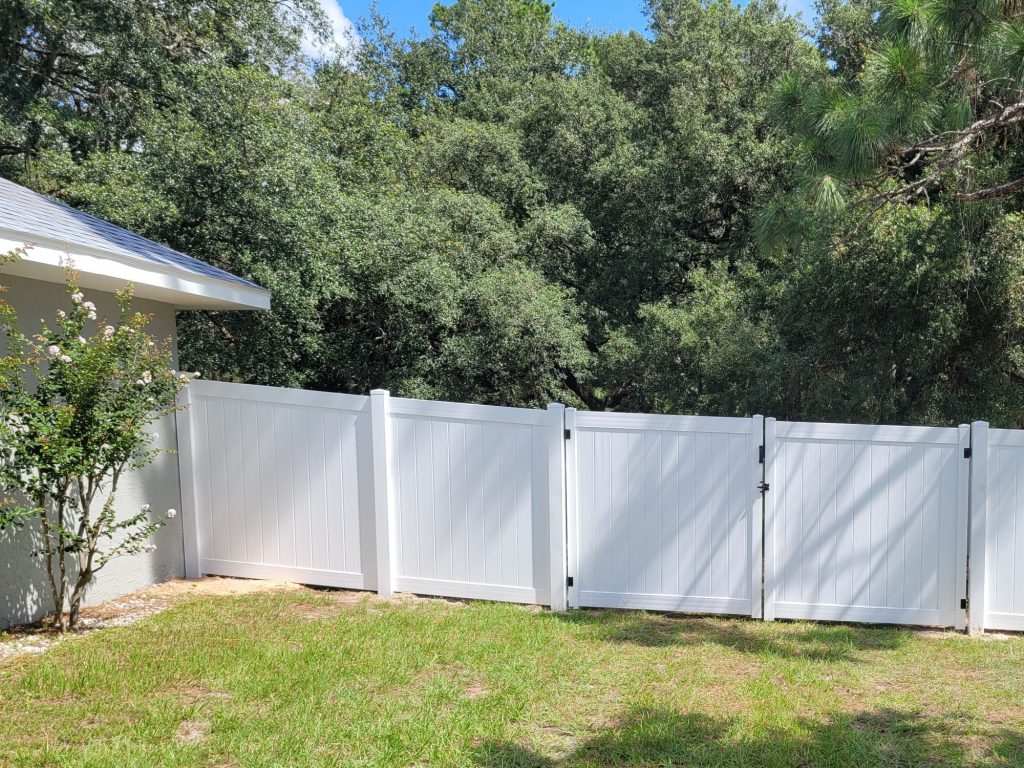 Vinyl is Durable, Strong, Long-Lasting
Vinyl fencing is strong and durable, even more so than wood fences or other types of fencing materials. Vinyl fences can be up to five times stronger than wood fences. When it comes to strength and durability, vinyl fencing is in the same category as aluminum and steel. And a vinyl fence becomes an incredible value once you consider the fact that it will never have to be replaced.
Low-Maintenance
Vinyl fencing requires no paint or stain to protect it and is very easy to clean. Your new vinyl fence will practically take care of itself! There is no need for a power washer or tough ingredients to keep a vinyl fence looking brand new. Occasional rain is usually enough to rinse off any dirt or debris. If there's a build-up, you can remove it by spraying your fence off with a garden hose. For the tougher spots, a towel with warm water and dish soap will do the trick.  
Assessing Your Property for a Security Fence
Calculate the total perimeter of the security fence and which areas need to be enclosed.

Look for natural features near the intended fence that may help intruders scale the fence.

Assess the ground for solidity. Security fences must be firmly secured in concrete.

Check your fence design against local zoning restrictions and stay within the limitations. You might be required to change or remove the fence if it does not comply with local zoning.
Work With a Top-Rated Florida Fence Contractor!
If you are looking for a fence that provides protection and long-lasting beauty, then let Getter Done Fence Pro answer your questions about protecting your home and commercial property with an expertly installed security fence. Our friendly and knowledgeable staff would be happy to talk with you! You can call us at (317) 786-2557 or you can Contact Us here. We also have an Online Estimator Tool that can get you an estimate in minutes as well. We're here to help!